Jurassic World: Dominion Dominates Fandom Wikis - The Loop
Play Sound
Neden-2
Map Size

Medium

Game Mode
Max players

12

 
Neden-2 is a medium-sized Death Match map in S4 League.
Information
Neden-2 is a Death Match map that closely resembles Neden 1, though the area has changed and the time of day is different it also takes place in a Warehouse with many alleys, gates, boxes, and sewers obstacles. The two halves of the vary also, if you are on you will begin on the side open to the alley ways with the large yellow water tower on Alpha Team your side. From this side there is no easy access to the top of the Warehouse without using jumps. If you are on the Beta Team you will begin on the side with stairs to the top of the Warehouse with easy roof access also, this is the recommended side for those who plan on sniping. The inside of the warehouse looks much more abandoned than the other two and has access through a breakable roof, one shot windows, and three large doors. In one alley way there is a large box and two pipes that are over looked by a large wall. The other alley way is more cramped and only offers one place for cover in the ditch behind a small breakable gate.
Places of Interest
Close-Mid Ranged Weaponray
Ground Level in Warehouse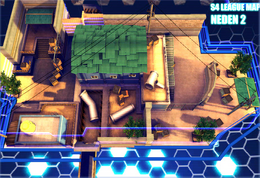 Long Range/Sniping
Player Spawns
Under the Roof on the dark side.
On the water tower.
Behind the water tower, next to the light post.
In the fenced area behind a box.
Behind 2 boxes on the sunny side, below the canopy.
Directly under the canopy.
Behind the tower of boxes where one can reach a common sniping spot.
Gallery